Prayer is the pillar of religion and a Muslim is not a true Muslim except by performing prayer, so children must be raised to perform the duties on time, and plant the love of prayer in their hearts, and this can be done through short stories entertaining them, and we will show you Short story about prayer with a wonderful child named Tolay.
Short story about prayer
Stories are one of the most entertaining things for children, especially if their protagonists are children.
So if you want the heart of your son and daughter to be related to prayer.
Tell him many stories suitable for children of his age to encourage him to perform prayer on time.
The story should also introduce the child to the importance of prayer and the fruits that you reap from it.
Why we should pray, and all matters related to it and faith, so that the child can grow up properly.
The story of Tolay and prayer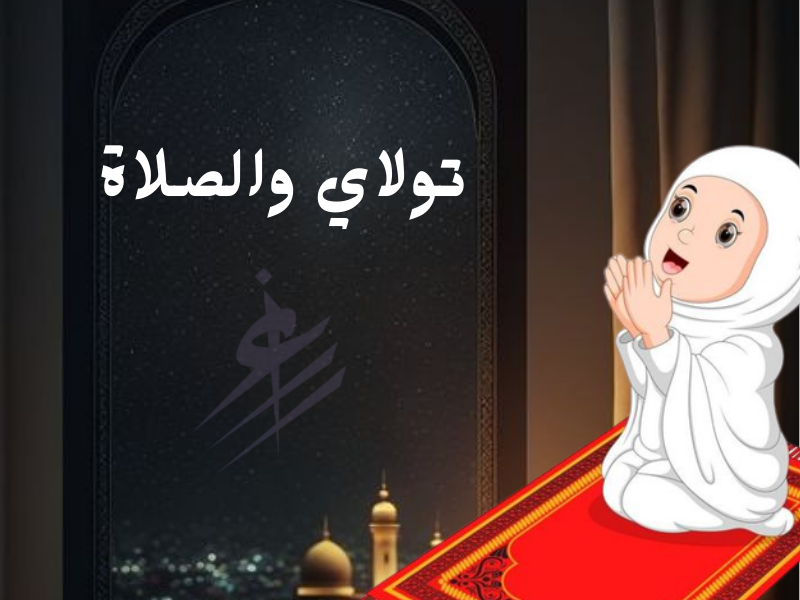 Tolay is a beautiful little girl but very smart, she likes to spend most of her time in front of the computer and mobile.
But despite this she maintains her studies and connections.
But one day, while Tulay was busy playing on the computer.
It was time for prayer and the muezzin's ear came at the mosque next to her home.
Tolay said, "It's time to pray.
Devil Yusus Tulay
But she said to herself: I still have time to play for a little while and then get up to pray.
Indeed, Tulay continued to play until it was too late for prayer.
The next day Tulay was painting a beautiful painting and she loves drawing very much, and she has many wonderful drawings.
While she was busy in her painting, it was time to pray.
The devil laughed at Tulay again and whispered to her and said to her, "Complete your beautiful painting first, there is still a lot of time to pray."
Indeed, Tulay continued to paint and delayed prayer again.
Tulay later used to delay her prayers every time, unfortunately.
Mother advises her daughter
The mother noticed that her daughter delayed the prayer every time, so she decided to go to her and talk to her kindly, and she went to her room and knocked on the door.
Mother: Did you pray, Tolay?
Tolay: There is still time, Mom, I will go to prayer when I am done with what I am doing, it is almost done.
The mother was shocked and said, "What do you say, Tolay?"
Tulay: Don't worry, Mom, you know I always keep praying.
Mother: But, Tota, how do you delay prayer? Don't you know that the best thing God loves is to pray on time?
Tolay: Yes, I know that, Mom, but…..
Seeking refuge in God from the accursed Satan
The mother interrupted her before she finished her speech and told her: Do not let the devil whisper to you to delay prayer, my daughter.
Mother: Seek refuge in Allah from him and say, I seek refuge in Allah from the accursed Satan.
Tolay heard her mother's words and said, "I seek refuge in Allah from the accursed Shaytan."
Seeking refuge was a reason for Satan's distance from her and she rose to perform ablution and pray.
Since that time, whenever Satan whispers to me to delay prayer, she seeks refuge in Allah from him, performs ablution and prays, and then returns to complete what she was doing.
Lessons learned from this story
Praying on time without delay is the most beloved of works to God.
Obey parents and listen to them and all advice.
Satan doesn't want anyone to pray and whisper to them to delay until they get used to it and then leave it altogether.
Not to neglect and develop the child's skills such as drawing, reading and others.